By Wyatt Earp | June 27, 2008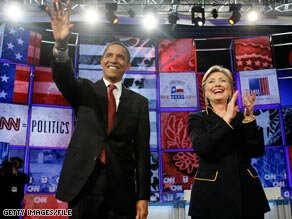 Can we stop with the Barack/Hill-dabeast love-fest already? No one is buying this garbage.
(CNN) — Sen. Barack Obama donated $2,300 Thursday to the campaign of his former opponent, Sen. Hillary Rodham Clinton.

In addition, Obama's national finance chairman, Penny Pritzker, donated $2,300, said Terry McAuliffe, who served as Clinton's chief campaign fundraiser. The $2,300 is the maximum individual contribution allowed.

"He wrote a check himself, as well as his finance chairman, so I got two checks in my pocket for Hillary," McAuliffe said.

Asked how much the checks were for, he responded, "They maxed out."

The move comes nearly three weeks after Clinton suspended her campaign and endorsed Obama, the presumptive Democratic presidential nominee.

This week, Obama asked top contributors to help Clinton retire her campaign debt of $22 million, about $12 million of which she loaned to her own campaign. (H/T – CNN)
This is exactly why this toad cannot be President: he has no killer instinct. "Let's bring everyone together." That's great for the country, but piss-poor for the rest of the world – a world that hates us.
Look, Hillary knew what she was getting into when she decided to run for President. She knew it would take money, and yet she still refused to drop out of the race even when her coffers were bone dry. I say, let her bail herself out!
But that's just me.
Topics: Politics | 11 Comments »