By Wyatt Earp | June 7, 2008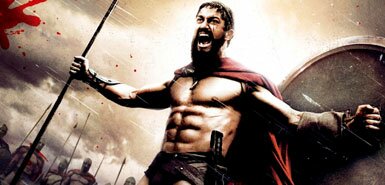 Yeah, I look just like this now. Sweet!
I have to tell you, it's been a damned fine week. We won our ice hockey game on Tuesday, the radio interview on Wednesday went much better than I ever imagined, and the release of the new blog came of without a hitch. So, I was in a pretty good mood when I stepped on the scale this morning.
I'm in a much better mood now. The scale read as such: 200 POUNDS!
That's a loss of five pounds from last week, and a net loss of 36 pounds since January 1st! My ultimate goal for this thing was to get under 200, and now, I'm just one pound away. There are only three weeks left in this contest, and my confidence is through the roof. So much so, that I'm going out on Tuesday or Wednesday and buying new work clothes. Shirts, pants, the works. I'm tired of wearing a muumuu to the division.
Hopefully, the weight loss will continue – thank you, Weight Watchers! – and I'll be in the 190′s next week!
Other Progress Reports:
Topics: Weight Loss | 16 Comments »