By Wyatt Earp | February 21, 2011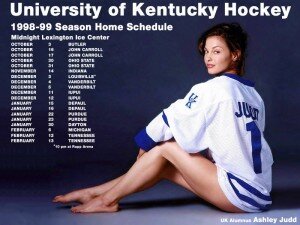 Don't worry, Ashley, I'm sure starring in e television series is not a condemnation of your movie career. Lots of talented people work in television now, like, um, Kim Kardashian, Vince the ShamWow Guy, and, uh, SpongeBob SquarePants.
Besides, if this doesn't work out, you're still married to the uber-rich IndyCar driver Dario Franchitti.
She's been laying low as of late, but Ashley Judd looks to be poised to star in a new ABC network action series. The project is titled "Missing," and it sounds like a variation on the Liam Neeson movie "Taken."

Judd, who is close to inking a deal for the gig, would play Beca Winstone, a devoted single mom who travels to Italy to find her 18-year-old son after he disappears. As the plot progresses, it becomes clear that Winstone used to be an agent with the CIA as she chases her son all over Western Europe.
Meh. Let me know when she plays a CIA agent-turned-stripper.
Topics: Babes | 13 Comments »