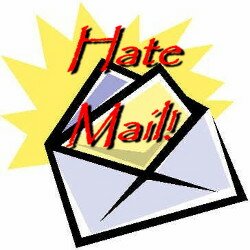 It's been a while since I received some post-worthy hate mail. (Picky's Ned Flanders-esque complaint notwithstanding.) That all changed on Tuesday when I received this gem from Marita Jaeger.
Marita is a special kind of snowflake, who boasts herself as the "Queen of New Orleans Vampires."
Really.
Her email was titled, "Opinions."
What a ridiculous blog you have. Stumbled upon it by mistake (big mistake) and wonder how people like you even know enough to turn on a computer.

If you have an opinion, you should probably keep it to yourself. Remember a little knowledge is a dangerous thing. Learn first to understand, and only then to be understood.
Wow, that's pretty deep for someone who manages a sports bar and operates a vampire boutique. I wonder if that last line is her own, or if she read it inside a fortune cookie?
You know, if I had a nickel for every time some troll said they "stumbled upon my blog my mistake," I could have retired years ago. The fact of the matter is Marita probably surfed this site many, many times, saw something she disagreed with, and got all pissy about it. She will now monitor the blog for any mention of her name, because she is desperate for attention.
Way to go, Marita; you got your wish. You're immortal. SYLG will be around long after your vampire business goes bankrupt.