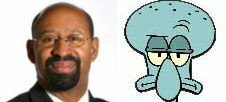 While many of you spent this last weekend on summer at the mountains or the shore, Philadelphia had yet another concert weekend. As usual, it was chock full of no-talent "hip hop" artists.
Hip hop and rock came together for Public Enemy's genre-bending set at Made in America Festival.
Yeah, word up, G! Friggin' idiots. Sadly, these friggin' idiots were more ig'nant than the usual crop of friggin' idiots our friggin' idiot mayor ships in. To wit:
Before making an entrance to the stage, Public Enemy representatives stood with a long vinyl banner that read "FREE MUMIA ABU JAMAL" – referring to the American convict who is currently serving a life sentence for a murdering Philadelphia Police Officer Daniel Faulkner in 1981.
Spectacular job, Mayor Squidward. Hire a bunch of animals who glorify a savage who murdered a Philly cop. Dick.