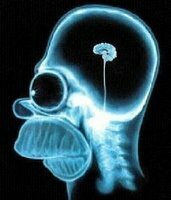 Well, tomorrow will be exactly one month since I contracted this vertigo nonsense. Last week, my family doc hooked me up with a steroid and heavy duty antibiotics. It seemed to do the trick. I'd say I'm about 75% of the way back to normal.
Today, I had a follow-up with the family doc and after hearing I'm still suffering slight dizziness, he sent me to the ENT doctor. The staff poked and prodded me – not in a good way – and did several tests on my ears. I'm having trouble with my right ear, and they think therein lies the problem. While the ENT doc agrees with every other doc I've seen (I have fluid from an ear infection), he wants to be absolutely sure.
So next week I'll have the pleasure of sitting through an MRI… of my brain.
(Yeah, the tests will come back negative, hardy har har.)
The ENT doc said while he thinks I'll bee back to 100% within the week, he wants to make sure there is nothing wrong with my wiring. Among the possible problems (in his words)? An Aneurysm, a lump, a tumor, MS, or a Ceti eel… in my brain.
Okay, I made up the last one, but you get the point. I get to spend the next eight days worrying what the MRI will find. Hopefully, they'll find the Lego I stuck up my nose in 1975.