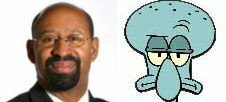 Hello, my name is Michael Nutter, and I am the current mayor of Failadelphia. Normally, I wouldn't be caught dead in a craphole like this – unlike my citizens, who are murdered by the bushel – but my SpongeBob SquarePants royalties are drying up and I needed some fast cash.
I need a bit more now.
You may have read I recently had a misunderstanding with the Philadelphia Gas Works. Apparently, they expect celebrities and politicians to pay their bills. As if. Do you know how many homeless people I have to walk past to get to the billing station? They also have the unmitigated gall to place a lien on a man's house when he has an outstanding bill of $500. Yo, I'm a Democrat; I didn't sign up for this. Those clarinet lessons don't pay for themselves!
Now, before you peons start a fussin' and a feudin', let me put you in some knowledge. I run shit here, you just live here! Similarly, in the spirit of transparency, my office will not be making a public statement on this matter. Don't you worry your flat little heads how it happened, but the lien has been removed and the bill has been paid.
Oh, and in a completely unrelated matter, my Bureau of Licenses and Inspections will be conducting demolition work on the building next to PGW headquarters. I'm trust the PGW building will not suffer any damage . . . or collapses.
UPDATE: Apparently, the people around me have some misunderstandings with PGW, as well. But hey, if anyone knows about illegality, it's my district attorney. Vote Democrat!