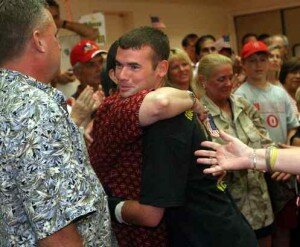 In 2009, I received an e-mail from a local woman named Terry Hardin. She asked me if I could relate the story about her son, Army Specialist Kevin Hardin, who was severely injured in Iraq.
Kevin was a combat medic serving in Samarra when his Humvee was struck by a an RPG. He suffered a multitude of injuries, and spent most of his post-injury time at Walter Reed Medical Center.
Sadly, I received this e-mail today from Colleen at Bring Everyone In The Zone:
Your website has a great article dated August 9, 2009 about Kevin Hardin who was severely injured in Iraq and spent 2 years at Walter Reed. It is with great sadness that I write to inform you that he passed away 1/22/2012 in Copperas Cove, TX.
Please keep Kevin and the entire Hardin family in your prayers.