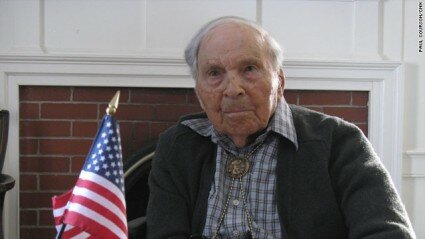 The last Doughboy has died. He was 110.
Frank Buckles, the last living U.S. World War I veteran, has died, a spokesman for his family said Sunday. He was 110. Buckles "died peacefully in his home of natural causes" early Sunday morning, the family said in a statement sent to CNN late Sunday by spokesman David DeJonge.

Buckles marked his 110th birthday on February 1, but his family had earlier told CNN he had slowed considerably since last fall, according his daughter Susannah Buckles Flanagan, who lives at the family home near Charles Town, West Virginia. (H/T – Kim)
Godspeed, Corporal Buckles. Thank you for your service.