By Wyatt Earp | June 30, 2008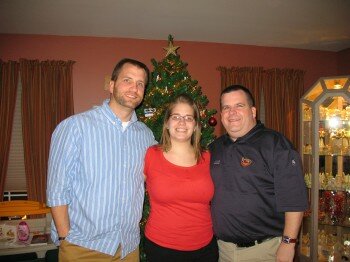 This is a photo taken on Christmas night, 2007: one week before our blogger weight loss competition began. Left to right are Randal Graves, our sister Allison, and some fat bastard named Wyatt Earp. In this eye-bleach-demanding image, I weighed in at a disgusting 236 pounds (standing at 5'9″). For some reason, I had no real problem with looking like this at the time, but to be honest, it now makes me sick to see how out of shape I had let myself become. I could still "play hockey," but I was never any good, took very short shifts because I had no endurance, and my confidence was shot. I would intentionally skip shifts, because I didn't think I could contribute.
And then, a saint named Sssteve with a halo and a hairy back challenged me to a weight loss competition. Although it was first just going to be me against Sssteve, we soon added more competing bloggers. By January 3rd, our group consisted of Me, Sssteve, RT, Grimjack, Mrs. Grim, SoHos, GOP and College, and Joe Cool. On top of that, a lot of other people tried losing weight outside of our little group – and that's good for everyone.
Every Saturday I published my results. Sometimes they were good, sometimes, they were okay, but not once in the entire six months did I gain. I'm proud of that. I jumped back into Weight Watchers with both feet, and started exercising again. Ice hockey games helped, but I also spent a lot of the winter months skating on my own. When it got warmer out, I took Kevin for walks in his stroller, and when Summer broke, I started walking on my own. Now I am walking at least five miles a day . . .
And guess what? The weight started dropping off. Before I knew it, I was down five pounds, then ten. A few months in, I was down almost twenty. A month or so after that, I was down thirty. And as of Saturday's weigh in, I was down exactly forty pounds to finish the contest at 196 pounds!
It's still not where I want to be, but I am really happy with the results. I am much more energetic, I feel great, and my hockey has really improved. It's nice to buy clothes that aren't meant for Michael Moore, and even nicer when people come up to me and say, "Wow, you've lost a lot of weight!" I cannot adequately describe how much better I feel . . . about me. I don't run and hide from pictures anymore, and I can wear things I would never wear in public – read: a tank top and a bathing suit.
I still won't take my shirt off at the beach – not there yet – but I no longer fear the townspeople's harpoons.
When we started this contest, we all agreed to put up $10 each and ship the pot to the overall winner. The winner would be based upon the percentage of weight lost. Starting at 236, and losing 40 pounds, I am right at 16.9% of my total body weight gone the way of Z. Cavaricci's. RT has already told me that I lost more than her, but I am not declaring victory yet. When everyone lets me know where I stand, then I will consider a tiny victory dance.
And, for the record, if I do win, the money is not important. If the competitors want to send it to me, fine, but this was never about the money. It was about losing weight and getting healthier. I hope everyone lost something, and we all became healthier people. You guys are my friends, and I want y'all around for a while.
Before I get too sappy, I want to especially thank Sssteve and RT. Sssteve, without your idea, I would still be a disgusting slob without any motivation. You helped me get myself right, and I can never thank you enough. Next time you're in Philly, lunch is on me. RT, no one pushed me harder during these past six months than you. You yelled at me (via e-mail) when I needed to be yelled at, and built up my confidence when it needed a few nips and tucks. Thank you for that.
So, that's it. Congratulations to all of you, and if you post a final progress report, I'll link it here.
Final Progress Reports:
RT
Here is the side-by-side "Before and After," courtesy of Cowboy Blob: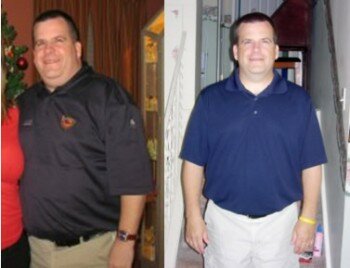 Topics: Weight Loss |