By Wyatt Earp | October 31, 2011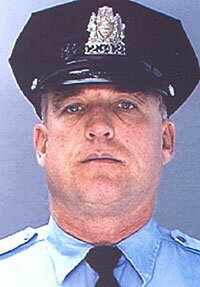 Four years ago today, Philadelphia Police Officer Charles "Chuck" Cassidy was shot in the line of duty. He unknowingly walked in on a robbery in progress at the Dunkin Donuts, 6600 N. Broad Street. His murderer is a piece of garbage named John "Jordan" Lewis, who spun around and shot Chuck in the head at point blank range. Chuck died the next day. Five days later, Lewis was captured in Miami, Florida. He has since been sentenced to death for the crime.
I was working in the division that day, and we all heard the call come out. Almost every officer and detective in the building grabbed their guns and ran out the door, as the scene is only seven blocks from our divisional HQ. It was bad, worse than we thought, and while we feared the worst, we prayed for the best. Sadly, our prayers were not answered.
I'm working in the division today, and I doubt there will be a lot of jovial conversation. Like the previous four years, most of us will just be going through the motions. We continue to pray for him and his family.
Topics: Cassidy Assassination | 12 Comments »