By Wyatt Earp | October 1, 2011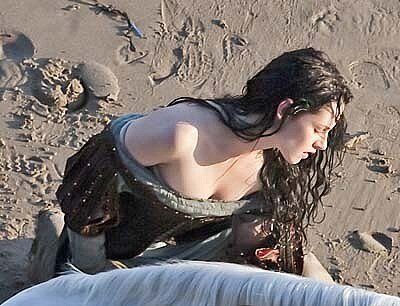 Apparently, the classic tale has been, um, retooled.
It has been billed as a re-imagined and slightly twisted version of the fairytale classic. And judging by today's on-set photographs of movie Snow White and the Huntsman, it certainly seems pretty far removed from Disney's fluffy cartoon take on the story.

Leading lady Kristen Stewart spent the day soaking wet and showing a good few inches of flesh as she shot scenes for the film on a Welsh beach. The actress looked to be taking part in some particularly dramatic scenes on the sands, and hoisted her soaking wet gown on as she walked along.
I've never been a fan of Stewart or her lame Twilight films – vampire movies should feature Wesley Snipes and include a lot of smiting – but I may have to rethink my position. Yeah, I definitely have to rethink it . . .
Because I'm a giver: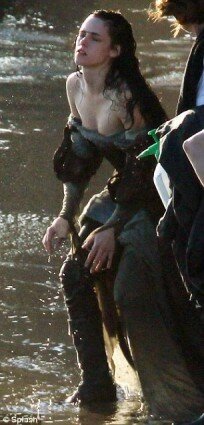 Yeah, that's the stuff.
Topics: Babes | 9 Comments »