By Wyatt Earp | January 9, 2011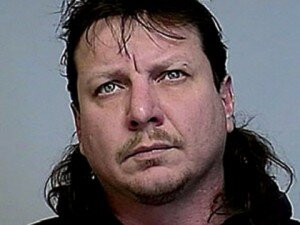 Yes, I know it's two freaky posts in as many days, but don't blame me. Mrs. Crankipants is the evil genius that finds this comedy gold!
Meet Terry Allen Lester. (Why does the media always publish the middle names of white criminals?) Despite his fantastic mullet, Terry does not have much luck with women. Unfortunately for them, Terry has a lot of anger issues, especially when women dump him:
A Waseca man is accused of planting an explosive device inside a sex toy intended for one of his ex-girlfriends. According to the criminal complaint, 37-year-old Terry Allen Lester has been charged with felony counts of creating an explosive device and making terroristic threats.

The criminal complaint says police found a sex toy inside the package that had been modified with gun powder and buck shot, which were connected to a trigger inside the battery port. Authorities say Lester planned on giving the sex toy to one of three women he had previously been involved with where the relationship ended poorly. Materials were found suggesting he intended to make two other similar devices.

Lester has been a long-time customer at Lindner's Liquor.
Shocka! Now, as always with stories like these, I expect some fantastic comments from you folks. I'll begin: "Lester must really like a woman of that caliber."
Topics: WTF? | 16 Comments »