By Wyatt Earp | October 2, 2010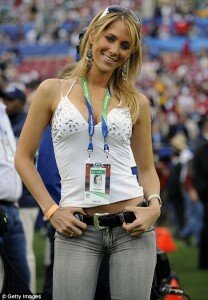 "Sports reporter" and probable whore Inez Sainz has received an offer to pose for Playboy.
Sainz caused quite a stir after walking around the New York Jets locker room with her pink parts hanging out. Moments later, she said she was surprised that the football players were making comments to and about her. NFL Commissioner – and royal douche – Roger Goodell immediately came down on the Jets and criticized their "unprofessional" conduct. Like I said; douche.
Football players making comments about some broad wearing next to nothing. Sainz was surprised about this?

It's not just the New York Jets who want to see that hot TV Azteca reporter without her clothes on — TMZ has learned Ines Sainz has received a formal offer to pose naked in Playboy.

Sources involved in the negotiations confirm Hugh Hefner's people reached out with a "pretty big offer" involving a huge payday and the cover — as long as the Mexican reporter strips down to her traje de cumpleaños.
Meh, she's dumb as dirt, but I'd still hit it.
Topics: Babes | 7 Comments »