By Wyatt Earp | October 16, 2010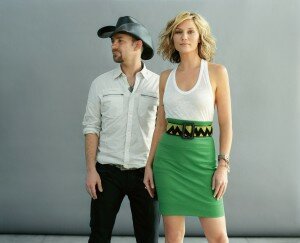 in December. Among the performers is Sugarland (above), one of Mrs. Earp's faves.
Being a diva is different than it used to be. Katy Perry, Sugarland, Keri Hilson, Nicki Minaj and Paramore are this year's "VH1 Divas," but they'll be taking some of the focus off themselves, singing for the military through a partnership with the USO.

Perry, Sugarland, Hilson and Minaj will perform for thousands of men and women in uniform at Marine Corps Air Station Miramar in San Diego. Paramore will visit Marines, soldiers, airmen, sailors, coast guardsmen and reservists at a military base in the Middle East.
I was never a big fan of Katy Perry, but I'll have the reevaluate that opinion now.
Topics: Babes, The Troops | 16 Comments »