By Wyatt Earp | October 8, 2010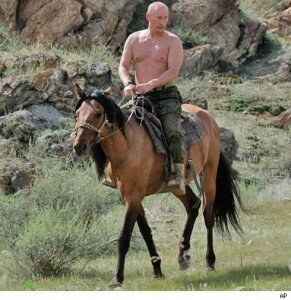 Remember when the Russians were buried behind the Iron Curtain? No one knew who they were or what they looked like. Then Reagan brought down the Wall and we saw all the Russian hawt. Hot actors and hotter female athletes.
Then Vladimir Putin arrived. Sure, he's a KGB scumbag, but he was a chiseled scumbag that made chicks swoon. Even at 58, he's tickling the loins of Russian women. So much so that .
Several female journalism students from a prestigious Russian university posed in slinky lingerie for a calendar filled with warm – sometimes steamy – birthday greetings for the prime minister. The calendar is the latest and one of the flashiest pieces of publicity for Putin, who has assiduously developed a manly image by posing shirtless on horseback and climbing into jet-plane cockpits.

Hard to find in stores but splashed widely across Moscow's tabloids, the cheesecake calendar features a photograph of a woman for every month in 2011, each with a word bubble addressing Putin.
The uber-hot Miss April (my birth month) is below the fold.

Oh. Freakin'. Yeah. You can see the rest of the calendar by clicking here.
Hint to my female readers: This would be a nice idea for your favorite Philadelphia blogger. Or me.
Topics: Babes | 12 Comments »