"Do You Expect Me To Talk?"
By Wyatt Earp | October 16, 2010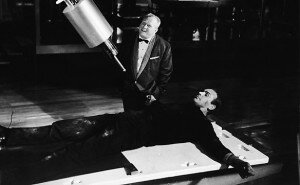 "No, Mr. Bond, we expect you to testify!"
Sean Connery – my favorite actor of all time – is in hot water after failing to show up for a court appearance in Spain. He was to be give testimony on a disputed land deal, but missed the appearance, citing ill health and the fact that he's Sean Freakin' Connery!
Sir Sean Connery failed to show up at a Costa del Sol court for questioning over a disputed land deal today. The former 007 claimed in a fax to the court he had not had time to prepare for the long journey from his Bahamas home.

The investigating magistrate in charge of the case will now consider whether to go ahead with an earlier threat to issue an international arrest warrant against the 80-year-old actor.
Please. You don't arrest James Bond! Now apologize to Mr. Connery.
Topics: WTF? | 5 Comments »