By Wyatt Earp | October 15, 2010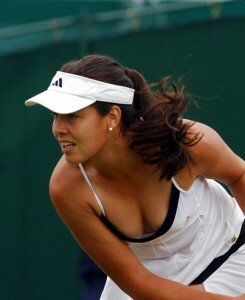 And no, .
An ill-timed bathroom break caused [Ana Ivanovic] to lose the second game of her match in Austria against Barbora Zahlavova Strycova. Ivanovic won her serve in the match's first game and then asked the chair umpire if she could take a bathroom break. When her request was denied, she pleaded but was told that even though there was a change of sides, she wouldn't be allowed to go before Strycova served. The chair umpire said she'd have to go on her own time. To Ivanovic, that meant at that instant. She walked off the court and into the player's locker room.

When she emerged a few minutes later, Ivanovic learned that she had been docked four points during her absence, one for every 20 seconds she went over the time limit. She protested, saying she thought she had permission, but the umpire's ruling stood.
Wow, who knew there were bladder Nazis in tennis?
Topics: Babes | 10 Comments »