By Wyatt Earp | September 29, 2010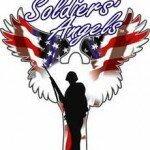 A few pieces of filth broke into the San Antonio Soldier's Angels Support Center, vandalizing the exhibits and stealing televisions and laptop computers.
There is a reason that this is the first criminal act committed against Soldier's Angels. It's because even the lowest form of life wouldn't dare burglarize an organization that gives care, comfort, and support to our troops. Hopefully, the thieves will be found, shot, then hanged.
Toby Nunn, the non-profit agency's operations manager, said those who have seen the video describe two vehicles, a black SUV and a maroon Cadillac sedan with chrome rims. The only description of a suspect was he was about six-feet-tall.

"This is not a store, this is a charity," Nunn said. "To be so violated, that someone would come in here and do this to a place that is designed to be special and helpful."

Nunn said the facility's glass entrance was violently shattered before and an assortment of large, flat-screen TVs were ripped out in its exhibit hall, along with a huge interactive screen. He said a half-dozen laptop computers were stolen which contained invaluable messages to the fallen and their families.
There is a special place in Hell for the scum who did this.
Topics: The Troops | 14 Comments »