By Wyatt Earp | September 21, 2010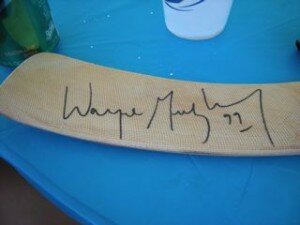 Remember that affair I had with this sweet sensation? Well, that's over. Kicked her to the curb.
This love is my one true love. It is a hockey stick autographed by my hero, Wayne Gretzky. Isn't she beautiful?
How did I come to possess such a lovely visage? Well, the credit goes to Mrs. Crankipants. She and Mr. Crankipants attended an ALS benefit over the weekend for their nephew – here's the e-mail if you would like to contribute – and this was one of the items at the silent auction. She told me about it, and my response was akin to Darth Vader's: "I want that ship stick."
She asked me how high I would go for it, and I quoted her a fairly obscene dollar amount. I did so because I'm the man around here and I don't need any permission to spend a lot of money. (Read: I asked the wife's permission and she gave me the green light.) Mrs. Crankipants said she would do her best, but considering the item, I figured my bid would be too low. And no, I am not releasing the bid here, but it was a nice chunk of change.
Later that night, she sent me the above photo of the stick blade and the autograph. I figured she was teasing me, because that's what she does. I told her that I was starting to get my hopes up, and that probably was an unwise thing to do.
Her response? "It's yours, idiot!" She won it!
I traveled to Casa de Crankipants this morning and picked up the stick – after thanking Mrs. Crankipants a million times. It was better than I imagined, and the best money I have ever spent. The fact that it's going to the charity is icing on the cake.
So listen up. No one gives Mrs. Crankipants grief here . . . ever! Understand, people?
Now, if you'll excuse me, I want to be alone with the stick.
Topics: Ice Hockey | 18 Comments »