By Wyatt Earp | August 22, 2010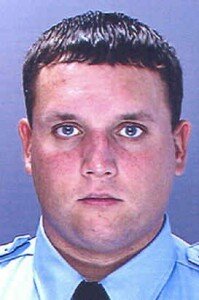 Since when did hockey get violent?
Meet Philadelphia Police Officer Damien Walto. If this story is true, then he is type of quality human being that we really need to patrol the mean streets of Philly. Officer Walto – a three-year "veteran" of the department – was playing in a local street hockey tournament when he decided to engage his inner Ron Hextall.
Walto allegedly struck a woman with his stick – his hockey stick, I mean – after the woman said something to him. Maybe she said he shoots like a prepubescent little girl? Either way, I'm sure his parents are very proud of him.
Officer Damien Walto, 30, was charged with aggravated assault, possessing an instrument of crime, terroristic threats and related offenses, for an incident last month after a daylong hockey tournament at the Tip Top Playground on Hope Street near Allen, police said.

Walto, a three-year veteran of the force and a member of the Philadelphia Police and Fire Pipes and Drums since 2008, has been suspended for 30 days with the intent to dismiss, cops said.

Shortly after 2 a.m. on July 18, police responded to a radio call for an assault victim at Thomas Jefferson University Hospital. When they arrived, the victim, a 24-year-old woman whom police did not identify, told them that Walto assaulted her after the tournament about midnight, cops said. He was off-duty at the time.
Of course, Walto is innocent until proven guilty, but in my opinion, he kind of looks like a douche. I'm just sayin'.
Topics: Philly, The Job | 13 Comments »