By RT | August 18, 2010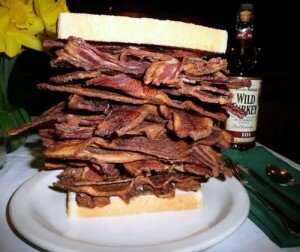 The scene:
August 2050, 6 p.m. at a diner near you.
Waitress:
Hey, hon, how may I help you.
You:
I'd like the turkey dinner with mashed potatoes, gravy, stuffing, corn, carrots, and a diet Coke.
Waitress:
Turkey? What's that?
You:
That bird that can't fly, and if it looks up during a rainstorm it will drown. It gobbles. We eat it for Thanksgiving.
Waitress:
Oh, I think my mom talked about turkey once.
You:
How old are you?
Waitress:
Oh, I'm 20. Anyways, we have a special today: vatted meatloaf, fried vatted meat patties with soy cheese, and vatted meat stuffed with soybeans.
You:
Can I just get a BLT with french fries, please.
Waitress:
Really, don't you understand? We only sell vatted meat as required by the UN and by the global food manufacturers…and their scientists. You're not from around here, are you?
You:
Good Lord.
Waitress:
Who's that?
Yeah….artificial meat…made in a vat. Sounds yummy and healthy. Right?
It is reported that the availability of food versus the need for it based on population will necessitate the need for the creation of artificial meat.
I don't think this is pimento loaf, either.
". . .novel ways to increase food production will also be needed, say the scientists. Conventional animal breeding should be able to meet much of the anticipated doubling of demand for dairy and meat products in Asia and sub-Saharan Africa, but this may not be enough.

Instead, says Dr Philip Thornton, a scientist with the International Livestock Research Institute in Nairobi, two "wild cards" could transform global meat and milk production. "One is artificial meat, which is made in a giant vat, and the other is nanotechnology, which is expected to become more important as a vehicle for delivering medication to livestock."
Well, this is just weird.
Topics: Duct Tape Advisory, | 16 Comments »