By Wyatt Earp | August 13, 2010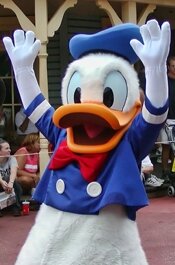 I was never a big fan of Donald Duck. First, I can't understand a damned word that comes out of his mouth. Second, everyone knows the one true cartoon duck is Daffy. Think Donald has the stones to take a shotgun to the face? Think again.
Anyway, it looks like my instincts were right. Donald is being questioned in the alleged groping of a DisneyWorld visitor. The woman, who hails just outside of Philly, is suing Disney – and by extension – Donald Duck, after the costumed character grabbed her breasts.
I guess now we know why he doesn't wear pants. Just sayin.
While visiting Epcot Center in Florida, a Pennsylvania woman alleges that a Disney employee dressed as Donald Duck grabbed her breast and molested her after she sought an autograph.

After the alleged groping, Donald Duck made gestures–apparently with his snowy white hands—"indicating he had done something wrong," according to a lawsuit filed last month by April Magolon. The Upper Darby woman, 27, was visiting Epcot with her children and fiancé in May 2008 when the incident reportedly occurred.

Magolon is suing Disney for negligence, battery, and infliction of emotional distress, and is seeking in excess of $50,000 in damages. The entertainment giant has petitioned to have the lawsuit, which was filed in Pennsylvania's Court of Common Pleas, transferred to federal court in Philadelphia.

According to Magolon's complaint, she has suffered "severe physical injury, emotional anguish and distress including, but not limited to post-traumatic stress disorder" as a result of the run-in with Donald Duck
Post-traumatic stress disorder? Really? You were allegedly groped April, not zip-lined into a raid in Mogadishu.
Topics: The Job | 17 Comments »