By Wyatt Earp | August 29, 2010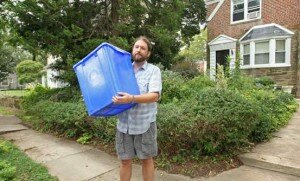 First, they threatened to force bloggers . Then, they towed away the Cupcake Lady's truck. Now, they're fining people for not recycling enough:
Of all the trash bags on all the streets in all the city, they rummaged through his. And then, they gave him a ticket for not recycling. Kevin Stutler – a man who not only sorts his own plastic, paper, cardboard, glass, and empty cans, but also cleans up the trash from his less conscientious neighbors – could not believe the irony.

Acting on orders from the mayor and City Council to pressure residents to recycle, the Streets Department is dispatching 46 enforcers to rummage through the garbage people put out on the street. When they locate unauthorized materials in the trash, these inspectors have the authority, nay, the obligation, to act.

But Sutler believes his fine – for failing to recycle a single plastic bottle – is ludicrous and unjust in a city filthy with litterers. Not to mention an appeals process that strikes him as, well, garbage.
Of course, the hippie thinks the law should apply to everyone but him, but that's not the point. Stutler left his garbage out before visiting relatives in Ohio. Everything was separated and collected, but as he was walking to his car, he found an empty plastic bottle by the curb. Stutler picked it up and put it in the garbage bag before driving off. The result? The Recycling Nazis hit him with a $50 fine for not recycling one plastic bottle. Are you frakkin' kidding me?
It's been a pretty good week for my hometown, huh?
Topics: Philly | 20 Comments »