By RT | August 17, 2010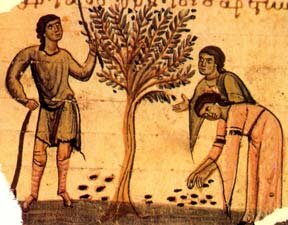 I love hearing
. It amazes me how long sites are excavated to figure out the amazing to the mundane, because even the mundane findings can lead to knowledge about how folks lived centuries ago.
A huge quantity of olive stones on an ancient shipwreck more than 2,000 years old has provided valuable insight into the diet of sailors in the ancient world, researchers in Cyprus said Thursday.

The shipwreck, dating from around 400 B.C. and laden mainly with wine amphorae from the Aegean island of Chios and other north Aegean islands, was discovered deep under the sea off Cyprus's southern coast.

Excavation on the site, which started in November 2007, has determined that the ship was a merchant vessel of the late classical period.

"An interesting piece of evidence that gives us information on the conditions under which the sailors of antiquity lived, are the large numbers of olive pips that were found during excavation, since these pips must have been part of the crew's food supply," Cyprus's antiquities department said in a news release Thursday.

The excavation is shedding light on seafaring in Cyprus in antiquity, commerce between the island and the Aegean and the sizes of the period's cargo ships, it said.

Olives and olive oil are a staple of the Mediterranean diet and their consumption over hundreds of years has been well documented.
Because of recent construction in Europe and the Mediterranean, a lot of new discoveries have been made. For me, at least, it has been very exicting. (Am I the only person who buried things to excavate them and thought it was fun?)
No word on if they found the remains of an albatross.
What? You thought I'd just show you a story about ancient mariners without blessing you with Iron Maiden's (couldn't find a full-length live version…more fun) ? What kind of an English teacher would that make me?
Topics: Coolness!, | 5 Comments »