By Wyatt Earp | July 21, 2010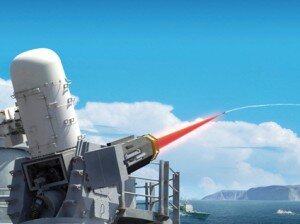 This is a banner moment in history, my friends. Sure, it starts with ship-mounted lasers. A few years in development, and the next thing you know, we're all walking around with blasters on our hip.
The United States Navy is now the ultimate power in the universe. I suggest we use it.
The U.S. Navy has used a a laser weapon to shoot down four unmanned aerial vehicles in a test that rings up memories of Ronald Reagan's "Star Wars" missile defense shield in the 1980s. The successful test of the Laser Weapon System off the coast of California was announced during the Farnborough International Air Show, which is taking place this week in England.

Mike Booen of Raytheon gave USA Today the money quote for the day: "The targets came in over the ocean, and it was a good day for lasers, bad day for drones."
Now if only I could get one of these for the house. Those punk teenagers will think twice about walking on my lawn!
Topics: Coolness! | 16 Comments »