By Wyatt Earp | July 25, 2010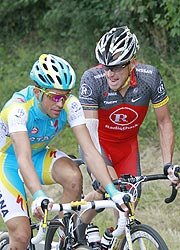 The Tour de France will never be the same again. Oh, I'll still watch it every year, but without Lance, it won't be as enjoyable.
You see, Lance Armstrong is more than a cycling phenom to me. He's a personal hero. I assume he is a personal hero to a lot of other people who have battled cancer, mostly because of his actions after he was diagnosed. He didn't fret, he didn't whine, he didn't give up.
Oh yeah, and then he went on to win 7 consecutive Tours de France. .
Alberto Contador won his third Tour de France in four years on Sunday, heralding the arrival of a new cycling superstar as seven-time champion Lance Armstrong competed in the race for the last time.

Armstrong completed his last Tour in 23rd place, 39:20 after Contador, his former teammate and rival. It was a far cry from the American's third-place finish in 2009 on his return from a four-year retirement.
And that's fine, because Lance's Radio Shack team won the overall team title this year. Now, that may not matter to the AP, but it matters to me. The man can win individually and as part of a team. Hell, Lance is 38 years old and he still took 23rd place. That's nothing to sneeze at.
I watched the final stage today, and while it was sad to see him go, it was also thrilling to see him on the podium with his victorious Radio Shack teammates.
Thank you, Lance, for giving a lot of people like me hope. Enjoy your retirement. You have earned it.
Topics: Cycling | 2 Comments »