By Wyatt Earp | December 21, 2009
Now this is what I call family planning!
A top US commander is threatening soldiers who fall pregnant on active service with jail.

Under the new policy, troops expecting a baby face court martial and a possible prison term – and so do the men who made them pregnant. And the rule applies to married couples at war together, who are expected to make sure their love lives do not interfere with duty.

Usual US Army policy is to send pregnant soldiers home from combat zones within 14 days. But Major General Anthony Cucolo, who runs US operations in northern Iraq, issued the new orders because he said he was losing too many women with critical skills. (H/T – Daily Mail)
Well, there are two ways to combat this issue:
1. Sternly warn incoming soldiers of the consequences of this rule.
2. Sign on only ugly, homely women.
This would probably be difficult in the Israeli Defense Forces. I'm just sayin'.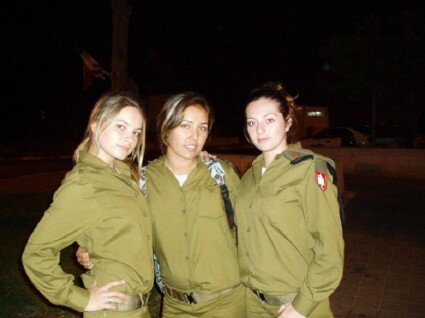 Topics: The Troops | 17 Comments »