By Wyatt Earp | October 16, 2009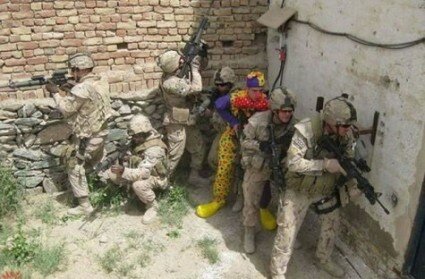 The Big Red Nose Caption Contest
(
Source
: Uncle Ray)
Submit your caption to this photo in the comments section, or e-mail me your photoshop entries. The winners will be be announced on Monday, October 19th. Good luck!
Other Current Contests:
Cowboy Blob
Family Security Matters
Military Times
Rodney Dill
RT
Wizbang
Top Five Entries:
5. "Pvt. Clarabelle.if you don't stop clowning around…..you're gonna get all our asses shot." – Diller
4. Clown: "Hey, where did we park the car?" – Randal Graves
3. "Quick light up the El Blammo cigar and pass it up." – Rodney Dill
2. Sgt. to self: "Who's this clown they sent to replace Pvt. Johnson?" – WALTERC
WINNER! – Last week, the Obama administration announced an end to "Don't laugh, don't tell," the Clinton-era ban on clowns serving openly in the military. – John D.
Topics: Caption Contest | 25 Comments »