By Wyatt Earp | September 28, 2009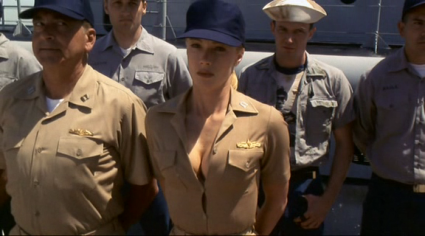 What's long, hard, and full of seamen?
A submarine, of course! Although that old joke may have to be re-worded to include sea-women if the Pentagon has its way. American military officials are reconsidering the ban on women serving aboard submarines, a decision that could "excite" some of our brave sailing men.
WASHINGTON – Top Pentagon officials are calling for an end to the U.S. military's historical ban on allowing women to serve in submarines.

Admiral Mike Mullen, chairman of the Joint Chiefs of Staff and the top U.S. military officer, advocated the policy change in written congressional testimony distributed by his office to reporters on Friday.

"I believe we should continue to broaden opportunities for women. One policy I would like to see changed is the one barring (women's) service aboard submarines," Mullen said.

Navy Secretary Ray Mabus said he was "moving out aggressively on this." (H/T – )
Yeah, and so will hundreds of submariners the second the first hot babe steps onto the deck. I imagine there will be many calls for female sailors to "Prepare to be boarded."
Topics: The Troops | 13 Comments »