By Wyatt Earp | August 9, 2009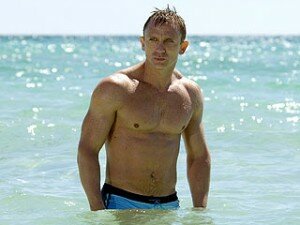 If I keep this up, I'll be looking just like Daniel Craig. That would just be so kickass!
Well, this week was another good one. I kept to my Weight Watchers points and exercised a little more than last week. So, when I got on the scale, I was hoping to roll a hard six.
Jackpot! This week I came in at 201 pounds. That's down a pound from last week and down seven pounds since I started. Two more pounds and I'll be under the Mendoza line . . . and into a leather Speedo. Heh.
Topics: Weight Loss | 6 Comments »