By Wyatt Earp | August 12, 2009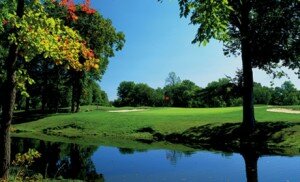 Good Lord, what a terrible story. I have actually played at this golf course with my Dad. It's a terrific local club.
You may remember the story of last year's HHGR golf outing, where Badger and Vinnie spun my cart, flipping it over. Luckily Fish and I were okay, but you never know what can happen when one of those things tips.
A top executive at TD Bank died of head injuries Friday evening after falling out of a moving golf cart at a fund-raiser for a Delran high school.

Frank Papotto, 44, of Moorestown, fell out of the cart at Rancocas County Club Golf Course in Willingboro Township about 6:10 p.m. Friday, police said. He was airlifted to Cooper University Hospital, where he later died.

Papotto was a senior vice president at TD Bank, which did not respond to calls this morning. He was helping to raise money for Holy Cross High School's football team, said Rayanne Bennett, spokeswoman for the Catholic Diocese of Trenton.

George Joo, office manager with the Burlington County Medical Examiner, confirmed that Papotto had died of head trauma and that the death was accidental. Joo said Papotto was a passenger in the cart. (H/T – Philly.com)
I once saw a guy fall out of a cart at Five Ponds Golf Club. The man broke his leg, and the medic unit had to drive through most of the course to reach him. I feel terribly for the family and the driver of the cart, who must be beside himself with grief.
Topics: Golf | 2 Comments »