By Wyatt Earp | July 27, 2009
Our took place yesterday at the Langhorne, PA Cheeseburger in Paradise. Everyone who is anyone – plus Captain America – in the local blog world was in attendance. Sebastian was there in all of his gun blogging glory, playing the gracious co-host. You would think that a blogger who gets as many hits as Sebastian wouldn't be seen dead with a hack like me, but I figure Bitter didn't tell him I was coming. Heh.
The Captain and I finally met . That's not a burn; I just figured he'd be older. Nice guy, and pretty damned funny. We laughed a lot.
Cheeseburger in Paradise was nice enough to reserve the outdoor patio for us, which was nice. The bonus there was that we didn't have to mingle with the common people. I am much too important to be seen with the peasants, ya know? Although, I was plenty happy to mingle with some Land Shark Lager. Not every one of us was so inclined, however. Take a look at what Captain America ordered: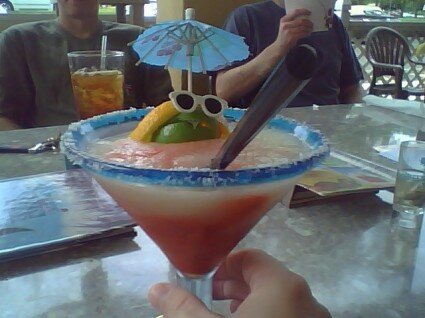 Yeah, that is what most men would call a girlie drink. It is a strawberry margarita, and while it looked pretty good, the sight of the big, bad firefighter drinking it was even better. Heh.
We talked about everything from guns to movies, and laughed at politicians, celebrities, and each other. In between, we got to know our table mates: from American Manifesto, who is currently "trapped" in New Jersey. I loved that line. Dave from Blog O' Stuff, Cemetery from Cemetery's Gun Blob, and Geek With A .45 – They had a great conversation about the mayor of Jersey City, New Jersey, who appears to be a bigger tool than Philly's Michael Nutter. Unreal.
They are all great bloggers, but more importantly, they are better people.
Thanks folks, for inviting me along for the ride!!
Topics: Site News | 8 Comments »