By Wyatt Earp | December 18, 2008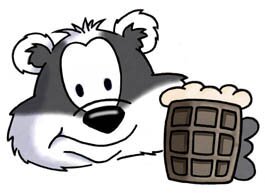 Today is my good friend Badger's 39th birthday. He is only nine days younger than Vincent Anotnelli, and a mere nine months younger than I am. Damn.
Badger and I have known each other since high school. We grew up together, we played (and still play) hockey together, and we both want to sleep with his fiancee' . . . just not together. Heh.
He's a good friend and a better teammate, even though we are constantly bickering about something or another. We are both stubborn, obnoxious knuckleheads - yeah, surprising, huh? - so if we're not laughing, we're usually arguing. The disagreements sometimes get heated, but usually cool down after a cold, delicious pint of Guinness.
Hopefully, we'll be toasting a win with him tonight after our hockey game. Otherwise, he pays the bar tab.
In lieu of an actual gift, I offer Badger this . . .
Topics: My Idiot Friends |