By Wyatt Earp | July 22, 2008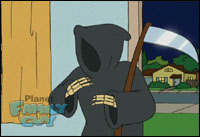 Bawahahahahahahaha! That's awesome!
Hold on a second.
Bawahahahahahahahahahaha!!!
Charles Ancrum did not succeed in breaking into a Delaware County business off I-95 over the weekend; he didn't make it out alive, either.

Police found the 50-year-old Phoenixville resident yesterday morning hanging by his neck from the garage window of a Chester Township general-contracting company.

Township Police Chief Tim Wilson said that whoever was calling Ancrum's cell phone obviously hadn't seen him at least in a couple of days, because the larvae and flies indicated that his body had been rotting in the sun over the weekend.

Wilson said that Ancrum apparently had tried to break into the building on Concord Road – possibly to steal scrap metal – by standing on a sawhorse and bashing in a small window. He said Ancrum may have poked his head into the narrow opening to look for the latch to the door.

"What happened was he slipped off the horse and snapped his neck, and he was there for about two days," Wilson said. "It was a freak accident." (H/T – The Philadelphia Daily News)
Best story I've heard all week. The only way it could have been better? If this happened to the toads who stole our money at the ice rink last night.
Hey Charles, when you get to Hell, tell 'em Wyatt sent ya!
Topics: The Job | 13 Comments »