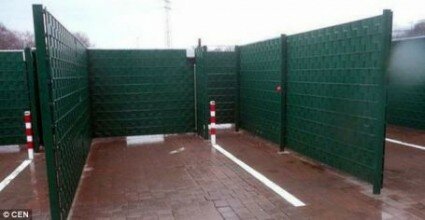 Pimpin' ain't easy . . . unless you do it in Zurich.
Prostitution has become such a problem in Switzerland that Zurich officials have made proposals to add "sex boxes" to the city. The idea itself is adopted from German cities like Essen and Cologne, and will be a way for prostitution to continue on behind closed, uh, doors.

The boxes will serve as quickie drive-throughs, so-to-speak, and will free up city streets from unsightly acts that haunt Zurich residents whose homes overlook the city's red light district. "They get up to all sorts in broad daylight – and we're sick to death of looking at it," one resident told the U.K.'s Metro.

From the looks of things, the boxes are big enough to conceal vehicles while prostitutes and clients handle business, away from the public eye.
Seedy? Yeah, but it's even more disturbing when the hooker asks if you want fries with that.